Exploring Red Lake's
Historic Resource

Scroll to continue reading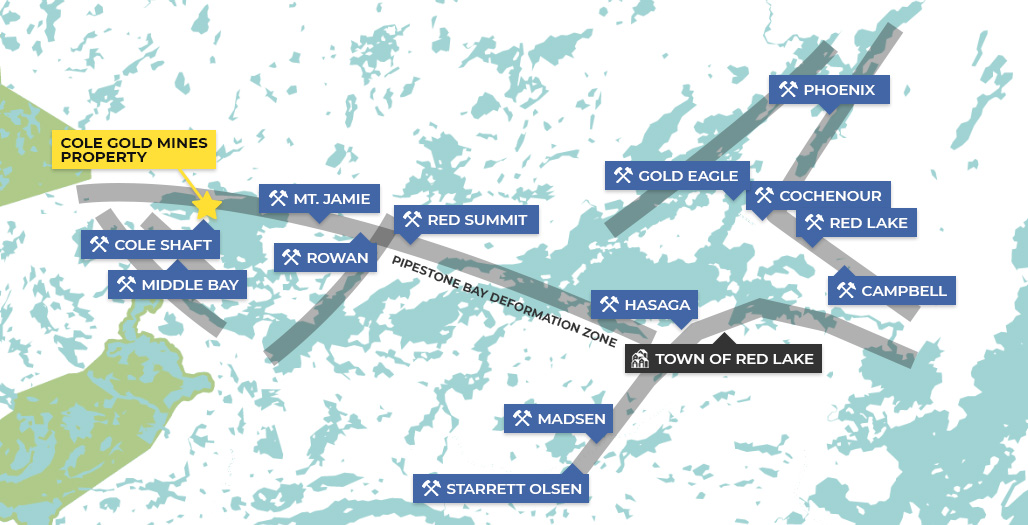 Well-positioned
Since 1925 there have been 28 operating mines and over 28 million oz of gold produced in the Red Lake mining district. The Cole Gold Mines property is in close proximity of numerous past and presently producing mines and is located along the Pipestone Bay Deformation Zone.
Pipestone Bay, 1930's
Cole Gold Mines Ltd. developed an exploration shaft on the property to a depth of 530 feet with underground development on 4 levels in the 1930's. Additional historical exploration found high-grade gold intersections in sulphide mineralized quartz veins in sheared quartz porphyry drilled by Kerr Addison Mines.
Project Timeline
March 2021
Acquisition of Cole Gold Mine property
Source technical personnel
May 2021
Ongoing interpretation of existing magnetic survey data by contract geophysicists
Source diamond drill contractor and sign contract for maiden drill program
Refine diamond drill targets and arrange logistics
June 2021
Commence maiden diamond drill program, the first active exploration program on the property in 48 years